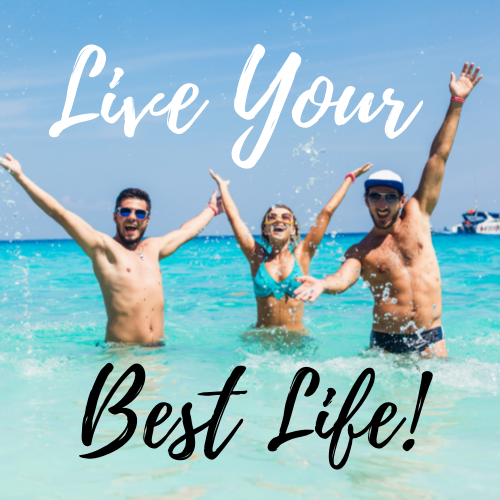 Are you trying to live a more effecient and productive life as a Realtor? Are you tired of all the boundaries and corporate world guidelines you are required to abide by? Searching for flexibility and creativity and room to grow your business?
Look no more!
---
WELCOME TO YOUR BEST LIFE!
Sandbar Realty Features & Benefits:
No desk fees!

E&O insurance paid by brokerage to cover your transactions

Pay Options:

100% Commission/ $495 Agent Transaction Fee/ $89 Monthly Tech Fee

90% Commission/ $0 Agent Transaction Fee/ $49 Monthly Tech Fee

Other (Depending on experience and broker approval)

Full Support Training & Coaching (Broker & Lender Partners etc)- In person & Virtually!

Technology Business Growth & Marketing Tools




KVCore Platform (Take it anywhere)

In House Marketing Site

Personal Editable Website with IDX (Generate leads directly to you)

Smart CRM (Works while you aren't)

Professional Email

Email Marketing & Campaigns

Social Media Marketing

Ads

Listing Playbooks (Step by Step for Marketing Listings)

Unlimited Landing & Squeeze Pages

Lead Generation (Company (No Pay Change), Opcity, & Lender Partners)

Open House App

Instant CMA

Own text codes/Additional phone numbers available

Area Market Reports & Listing Valuation Reports

Form Simplicity E-Sign with transaction checklists

Free syndication of your listings on all major portals

Ability to have all calls, emails & messages on your listings coming straight to you!

Brokerage a member of NEFAR & St Augustine MLS for additional access

Registered with HUD for the ability to bid on HUD homes

Open House Opportunities to Grow Buyer Data Base

Lender Participation in Open House Marketing, Flyers, Salvage Packs, etc.

Community Involvement Events

Network Events

Lunch & Learns Provided by Partners

List Reports Available from Lender Partners

Additional Co-Branding Opportunities with Lender Partners: Marketing Materials, Events, etc.

Spaces available for Photoshoots, Videos, Meetings, Trainings, etc. provided by partners.

Programs for your clients: Heroes Savings Program, Lease to Own Program, Lender Credits, etc!

Dictate your own commission rates with your clients!

Get Paid at the Closing Table!
---
Summary of Our Perfect Agent:
Not a fit for Corporate Brokerages & their rules

Wants a flexible schedule to work as much or as little as they want

Comfortable working from their home office or anywhere

Doesn't require constant on going in classroom training but open to it as it is offered

Willing to take company leads & referrals

Understands the importance of generating their own leads, and not lead dependent on the company leads only

Doesn't want to over pay a brokerage thousands of dollars

Understands the value in an all in one platform to make their business effecient

If a NEW Agent: Must be very motivated and have sales experience, willing to learn quickly, able to attend trainings, & held accountable for making calls
---
If you are interested in learning more about our programs, or would like to schedule a meeting with the broker, please send us an email at info@sandbarrealtyjax.com.
Testimonials
" Wow, I don't even know how to begin this review. Backstory: my husband and I put our house on the market, it sold that day... we were NOT ready for that. Our new house has just begun the building phase. So my family of five and two dogs were essentially homeless. We packed up everything in storages, boarded our dogs and stayed with a friend. After trying and trying myself from sunrise to sunset with absolutely no luck, I took a shot and called Sandbar Realty. The first conversation I had with Kira, I hung up and felt like I took my first breath in a long time. She was on it. She literally took the reigns from me and assured me that I could relax and she'll handle it, And she did. I mean, through the weekend at NIGHTS and even through Sunday, she was asking questions, contacting everyone she knew and keeping in touch with me about EVERYTHING, I never had to wonder if she forgot about us. In three days Kira and her team put us in a home with EVERY. SINGLE. REQUEST we asked for. I'm talking room, yard, price, neighborhood, they found it!!! We never had to raise our price, in fact we came out UNDER budget!! It just goes to show you NO job is to large or to small for her, she makes you feel like her number one priority. When she called and said "I found it" we were in tears! Thank you, thank you, thank you Kira and team you are a true blessing!! "
- Bethany Lyke
" Kira makes the home buying process such an amazing journey. She found us exactly what type of homes we were looking for in our budget and in our prime locations. All we ever had to do was just show up to do walk throughs. After finding us our dream home which we got into early before open house because of her great connections, she guided us through every step of the closing process and made closing so easy. If I could give 100 stars, I would. Do not go with anyone else, go to Kira, you definitely will NOT regret it. "
- Denise Harrison
" Kira helped me purchase my first home! She made the process as stress free as possible and held my hand every step of the way! Thanks for helping me finally have the courage to make the step of purchasing a home! It feels great to be a homeowner! "
- Brittany Blalock
" Great people, great customer service and just an overall great experience thanks Kira! "
- Jeremy Lane
" I am so glad that we chose Kira Sikes to help us find our home. She and her team were very professional and very thorough. She came up with some creative ideas for us to write a buyers letter and an escalation clause because the market was so hot and her suggestions literally made the difference. Kira crossed every T and dotted every i in this process and literally helped us WIN this house. I might add that Kira has been patiently keeping in touch and sending me useful listings and information from time to time for almost 4 years!! Finally the time came when it was time to look for real and she treated me like I was her best customer. I couldn't be more pleased to be in this new beautiful home and Kira and her team at Sandbar really helped us get it done, and done quickly. "
- Alan Vinson
" We stumbled across the house for sell while out walking Dec.26, 2020. Kira and her team were amazing. They were able to sell our condo and sell us the house in 30 days. We closed on the house the day after we closed on the condo. What an amazing team. They made the process easy and stress free, always staying in touch with us. Professional. Responsive. Awesome. and Easy. I highly recommend this team. "
- Doug Powell
" I'm a local investor in the Jacksonville Florida market and I recently closed a sale with Kira. Kira's team worked extremely hard to get this deal done within a very short timeframe. In a competitive market like we are in now, it's a challenge to find a hardworking team who delivers as promised. "
- Jesse Wyatt
" Kira has been a pleasure to work with! Highly recommend!! "
- Becca O.
" I have worked with Kira on one recent property transaction and look forward to working with her and her team on many more. She is particularly knowledgeable on the Jacksonville investment property market. She is extremely responsive and professional. Keep up the great work! "
- Brad Brynteson
" Kira and her team are true professionals! They have gone above and beyond to help my husband and I navigate a very competitive market. Kira is so knowledgeable of the local real estate market and has helped us make informed decisions every step of the way. "
- Laura Padovano
" I had nothing but excellent service from this company, they went above and beyond their scope of practice to make the sale of my home happen! Kira always responded with solutions and in times like these we need to hear how to get things done not why things won't work, I would choose this company again! "
- Celine Baker
" Kira is great! Amazing personality, super knowledgeable and great to work with! I highly recommend using her services if you're buying or selling, not every agent is the same 😉 "
- Katie Little
Previous
Next